2020-2021-"Mosaic Quilt"
by Meadow Mist Designs
Led by Betty Ann McNabb
Fabric List   
Cutting Instructions 
October Instructions  
November Instructions 
No Instructions in December
January Instructions – #1 
January Instructions – #2   
February Instructions #1 
February Instructions #2
BOM is Complete.
2019-2020 – "Mystery Quilt"
Led by Betty Ann McNabb
Fabric List     
Block_1_Pattern   
Block_2_pattern 
Block_3_pattern
Block_4_pattern
Block_5_pattern  
Block_6_pattern  
Block_7_ pattern    ……..  These are the setting blocks, or the blocks that will go between the big blocks you are making.  The picture on the front is a bit deceiving.  You will need to make 18 of one of these blocks and 8 of the other.
block_8 pattern 
block_9_pattern
block_10_pattern

2018-2019 – "Let's Go Camping"
Led by Betty Ann McNabb
supply_list 
block_1 
block_2
block_3
block_4 
block_5
block_6
block_7
block_8 
block_9
the_layout
2017-2018 – "Happiness is Quilting"
Led by 

Suzanne Brochu-Ranta.
 If you have questions please contact Suzanne at:
705-646-2559 or by email:  suzannebrochuranta@icloud.com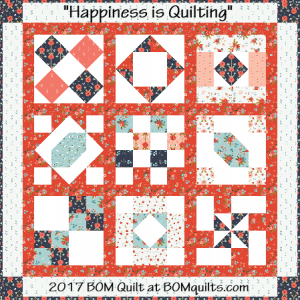 An original quilt designed by TK Harrison from BOMquilts.com.
"Happiness is Quilting" features a color palate ranging from very light to very dark – all extremely pleasing to the eye!
Below you will find links to the BOM patterns  as they are shared at the guild meetings.
November Fabric Requirements
November Block 1
December Block 2 
December Block 3
December Additional Activity:
Using shades of blue and white winter fabrics, create a Winter themed block using pattern #3. Bring your winter blocks to our January meeting.  All submissions will be part of a draw.  All contributors will receive a ballot, and given the opportunity to win all of the submissions.  The more the merrier!!!!
January Block 4 
January Block 5 
February Block 6
February Block 7
May Border #2 & Finishing Instruction